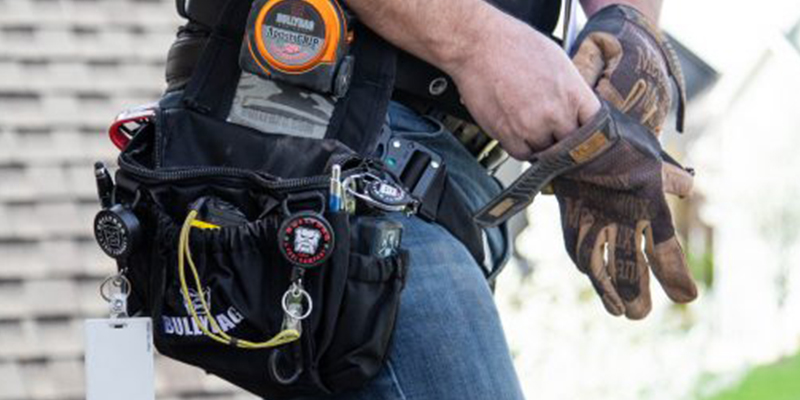 Insurance Adjusters Tools
Insurance Adjusters Tools
There are general tools and then there are Industry Specific tools. BullyBag® & Tool Company provides industry tool solutions. They commit to developing, manufacturing and providing solutions of the highest quality. All that performs to the most demanding standards.
One great example of these standards is the BullyBag® Ultra Pouch. This is an exclusive patent-pending design made of Ballistic Nylon. This allows it to be super strong and flexible, as well as good looking. The BullyBag® Ultra Pouch provides unparalleled balance.
Also, stowing and access to industry-specific tools for the high-stress environments of the field
. BullyBag® Tools are versatile.
They can
be used
in a variety of applications for the professional Estimator/Inspectors fields
. Such as Daily/Catastrophe & Public Adjusters, Appraisers, and Contractors Sales Team. Also, Project Managers, Home Inspectors, Engineers, Fire Inspectors, Architects and more.
BullyBag & Tool Company, Inc derives its name from our founders and the United States Marine Corps legacy
. Also, the USMC Bulldog "Chesty" which has become our brand's face representation. 
For those who do not know, the Bulldog has been the mascot of the USMC since 1922 when first introduced by Smedley Butler as Mr. Jibbs
.  The Bulldog
was renamed
"Chesty" in honor of the highest decorated US Marine warrior.
A great leader with empathy and compassion for his troops, centered in humility, integrity, and full of pride for his "beloved Corps"
. 
General Chesty Puller never forgot the #1 priority of Mission Accomplishment, and neither have we
.  Mission Accomplishment and Integrity are at the center of our corporate culture. It goes into every tool we design and produce.
Like Chesty, the BullyBag Ultra Pouch and every tool we place our name on are exceptional.  Balanced, lightweight, comprehensive and good looking. All our products go through a thorough and "flow first" design process. Also, testing, then redesign and retesting etcetera. This is to provide you with a quality product you can use day in and day out while being effective AND efficient. 
Ever a protector, BullyBag & Tool Company and the people that work it, in no way condone bullying whatsoever
. Not online or on the street. We contribute and take part to make the world a better place. We do this by way of volunteer work, donations and contributions to charities. This includes several
anti-bullying programs.
One of our trademarks, "Claim the Storm" has more depth than most think.  Some think its about insurance claims and storms, which would not be untrue but it does not end there.  Claim the Storm speaks to the strife that is part of life.  The horrors one experiences.  The real-life turmoil felt first hand or found in others.  We all have storms within us from time to time.  Some run from the storm and avoid, which usually allows the storm to grow.  Some turn and face their storms head-on – deal with the stress, pain, and difficulties that
are dealt
with all us.  We know not everything is easy. When the storms come we hope you Claim the Storm in your personal and professional life every day. Also, make the most of this amazing thing, life.  Claim the Storm®
If you have any questions about becoming an insurance claims adjuster,
contact us
today!