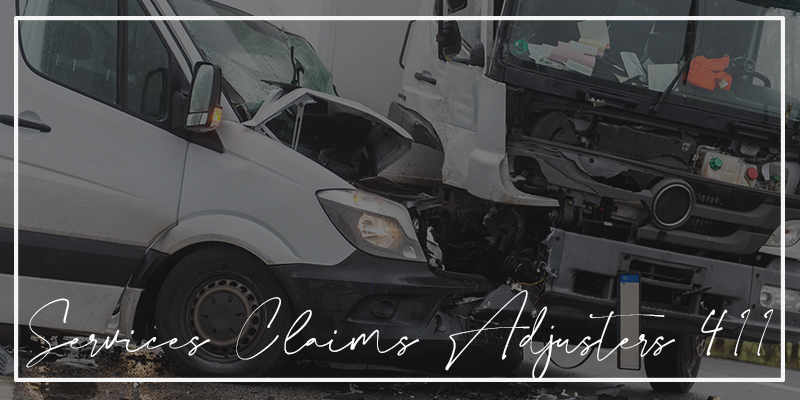 Services Claims Adjusters 411
Services Claims Adjusters 411
Claims and Investigative Services Throughout the Contiguous 48 States
REPORT ACQUISITION
Obtaining Police, Fire & Other Official Reports
Navigating the many different channels required to 
obtain
 official reports in different jurisdictions can be time-consuming and difficult
.  Our staff is proficient at locating the report you are looking for. Also, obtaining it in the most timely yet cost-effective manner possible.
We always strive to mitigate costs by obtaining reports 
electronically
. 
However
, sometimes a report must 
be picked
 up in person or 
is needed
 immediately. 
 Our nationwide database of over 3,500 adjusters and investigators helps us ensure you get the report you need FAST
.
RECORDED STATEMENTS
It never fails that the recorded statement you need the most is 
frequently
 the hardest to 
obtain
.
Our staff can provide 
multiple
 levels of service based on your instructions to help ensure you get the statement you need
.  We provide statements to our clients in electronic format, never on tape. 
In addition
, our team is 
extremely
 proficient in making contact with your subject through alternative means
. 
We use the Internet and Public Records to locate individuals when their current contact information is not available
. Our most 
commonly
 used service is After Hours Contact for recorded statements. Your subject most likely works the same hours as you. 
Because of this, it is 
frequently
 difficult to 
obtain
 statements during your business hours
. 
 Our staff works around the clock, and can 
frequently
 resolve issues with difficult to reach individuals in 
just
 a call or two after hours
.  We get you the information you need while keeping you from working overtime.
Statement Acquisition Services Include:
Recorded Statements In Person or By Phone
Database | Internet | Social Media and Public Records Searches for Claimant | Witness | Other Subject Contact information
Cold Call Visits to Make Contact in Person
After Hours & Weekend Contact
GENERAL INVESTIGATION SERVICES
We can assist with all of your investigative needs, no matter how unusual or routine, limited or in-depth.
If you need an investigation completed which does not appear to fall within the services described, please contact us so we can discuss how we can meet your needs. Our diverse experience and desire to go the extra mile frequently means we can find a solution to your problem. Be assured that your call will not be time wasted. If we are unable to assist you, we will use our industry contacts to refer you to someone who can.
If you have any questions about our services, contact us today!
Also, be sure to follow us on Facebook!