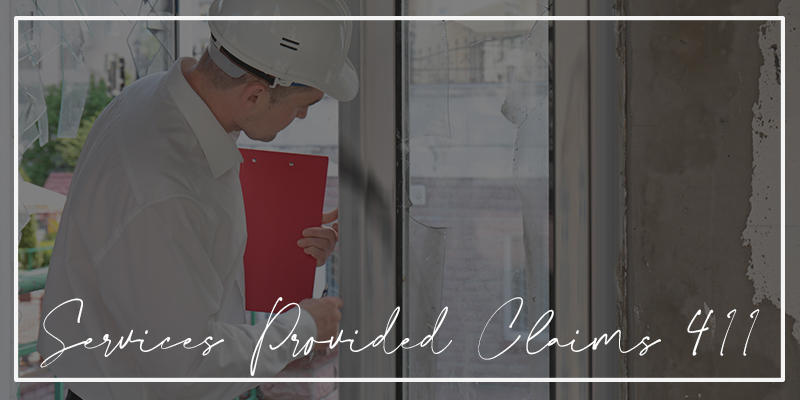 Services Provided Claims 411
Services Provided Claims 411
Claims and Investigative Services Throughout the Contiguous 48 States
CARGO CLAIMS
Immediate On-Scene Cargo Claim Response
What happens when your cargo spreads across four lanes of interstate blocking traffic? You can be certain that the Highway Patrol will not concern themselves with mitigating claims expenses. Especially when they contact a tow company or other vendor to clear the accident scene.  Our adjusters can respond immediately to the scene of an accident. They can monitor the cleanup, and document the resources used by the vendor. Also, provide you with detailed updates and photos from the accident scene of your cargo loss.
PHYSICAL SECURITY
Reassure your customers that their cargo is not tampered with or to prevent loss of high-value cargo. Our team can monitor the cleanup, offloading, inventory, and storage of your loads.  We can provide inventory services and documentation of the chain of custody. Also, we offer storage site security surveys/inspections.
SURVEYS
Cargo Shortages and Damage Disputes
It's always a sensitive matter whenever there is a dispute regarding the status of cargo you delivered or received. Particularly when the relationship between you and the other party is vital to the success of your business.  As a third party, we can assist in the inventory and damage documentation of cargo at any facility across the United States.
SALVAGE DISPOSAL
Our local assets can assist you in salvage & disposal of cargo. This is to ensure your expenses mitigate and you get the best possible return on the sale of the salvage.
INVESTIGATIONS
We take pride in the work product we produce for Theft and Corporate Security assignments.  Our team has diverse experience to include prior Law Enforcement, Legal and Claims Experience. This enables us to perform detailed investigations that produce real results.  Typical services include:
Employee or Insured Interviews or Interrogations
Scene Photos and Physical Security Sight Surveys
Witness Interviews and Statements
Surveillance Footage Acquisition
Verification Stolen Property Has Been Appropriately Reported to the Authorities, and Confirmation Those Authorities Have Accurately Input the Property into the Correct Law Enforcement Databases

Liaison with Investigating Agencies and/or Appropriate Agency Task-forces to Ensure Information 

is Shared

 Between All Investigating Parties

. This is to Provide the Best Chance of Property Recovery. Also, Prosecution of Responsible Parties
If you have any questions about our services, contact us today!
Also, be sure to follow us on Facebook!