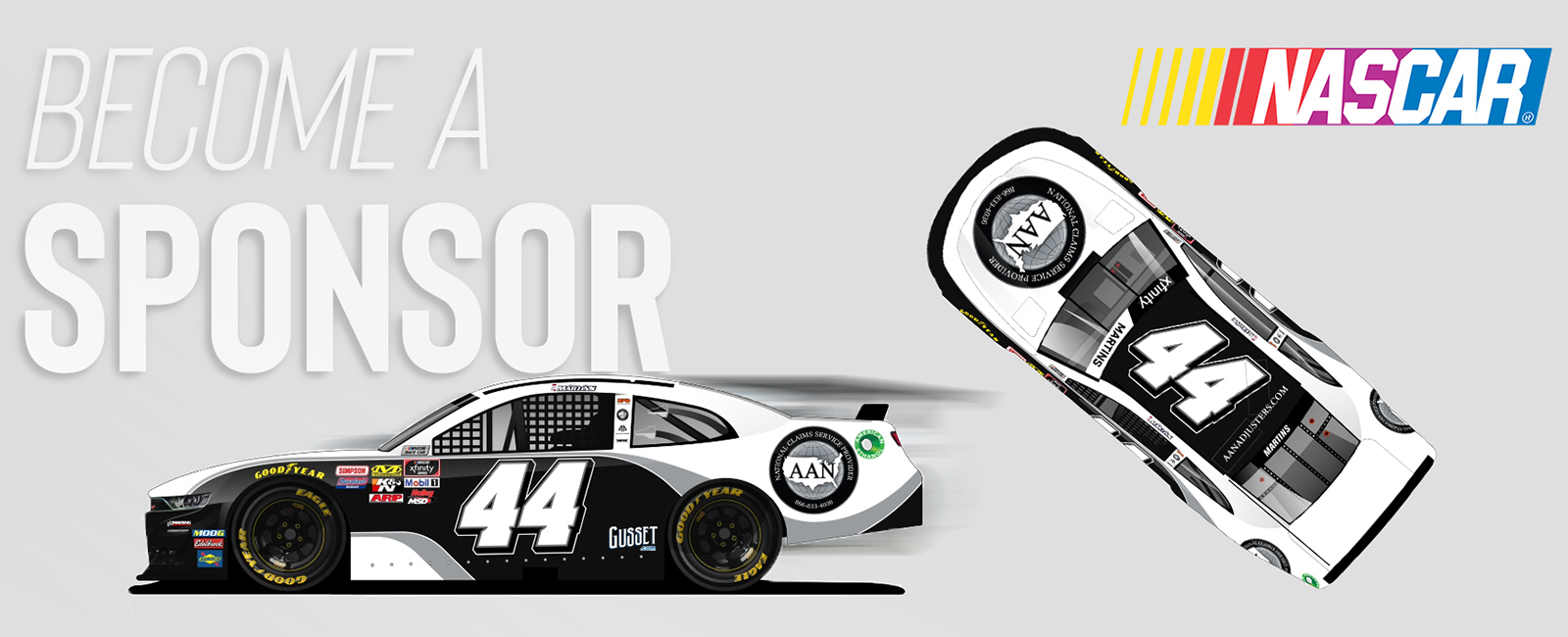 SPONSORSHIP OPPORTUNITIES
NASCAR XFINITY RACE SERIES 2020
This would be a great opportunity to get your name exposed in the NASCAR arena. We also run 15 to 20 track day events with 
Just
 Track it, and SCCA. Also, NASA and others at tracks like Road Atlanta, Charlotte, Barber in Birmingham. We are willing to promote our TA2 car at these events as well. Matching with the car running in the Xfinity series at some 
additional
 cost.
We are sponsoring Tommy Joe Martins car in the NASCAR Xfinity Series for 2020 (25+ races). 
The first race at Daytona is Saturday, Feb 15, 2020. AAN will be the primary sponsor at Daytona. We also have most of the other races through the season. 
We are selling opportunities to anyone who wishes to 
purchase
 an advertisement on the car for an Xfinity race in the season
. Also, the semi-trailer car hauler that will transport the car to and from the track. We have pit passes that can come with the 
purchase
 of these advertisements. The target sales price to get on the car is $10,000 per event (some events may be more or less). We have not set prices on the hauler 
as of yet
.
AAN has sponsored Tommy Joe as well as Trevor Bayne in the past at Bristol. 
Just
 as an example, the cost to sponsor Trevor Bayne with Roush Racing was well over $50,000 per race. Tommy Joe has started a new race team for 2020, which presents a unique opportunity for sponsors. He will be driving for Martins Motorsports in the 2019 Camaro. Due to our relationship with Tommy Joe, we are able to offer this outstanding opportunity. This is a low-cost way to have a company or charity exposed on a NASCAR series race car. 
As an example of what someone can do.  A company can 
purchase
 a sponsorship at Bristol, Atlanta, or Charlotte. 
Also, other tracks and their company on the car mentioned in press releases and promoted by the driver
.  They could also sponsor and promote a charity.  You take the tax write off and help that charity get recognition with part of the car. Also, promote your business with the rest of the car, and enjoy watching the race from the pit box. 
If you know of anyone who wants to take advantage of this opportunity we are willing to pay up to 10% in commission to you or someone who sells it
.
RACE SCHEDULE