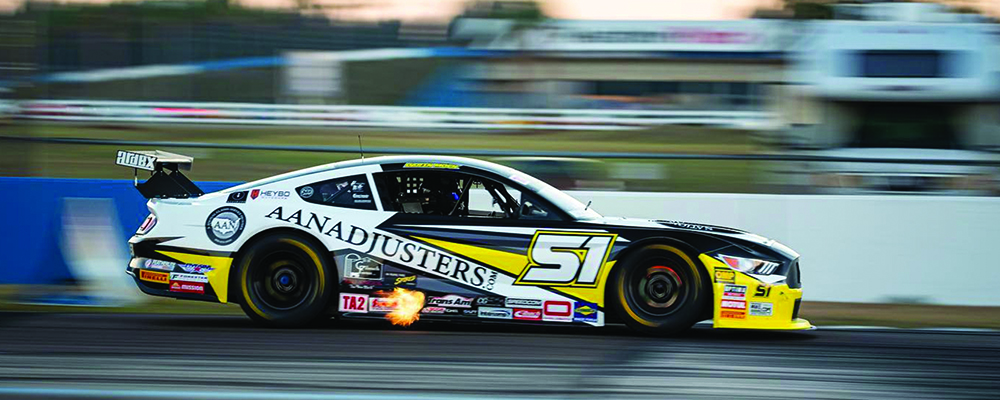 AAN Adjusters Sponsorship
AAN Adjusters Sponsorship
AAN Adjusters Sponsors Darin Mock
Darin is entering his first full-time season at 19 in the TransAM TA2 series in 2O22, after winning the NASA Southeast Championship in 2O21. Piloting the No. 51  car with Mike Cope Racing, he is one of TransAm TA2's "Young Guns."
Last year, Mock competed in the NASA Southeast Spec Iron Series. In just his sophomore year, he won over 9 races and he chased down the points to claim the series championship.
Biography
Darin started racing BMX bikes at the age of 5 before moving up to kart racing at a young age. He competed in kart races at GoPro Motorplex, and the WKA Road Racing Series on iconic tracks like the Daytona Road Course and the Charlotte Roval.
At age 16, Darin started competing in the NASA Southeast Spec Iron Series in his SI Mustang. He was a consistent front runner in the NASA Series. He raced in his NASA SI Mustang at the Daytona Road Course, VIR, Road Atlanta, Mid Ohio, Sebring, CMP, and Roebling Road.
Last year during his NASA Southeast Spec Iron Series Championship season, Mock also ran three times the TA2 Trans Am Series driving for Mike Cope Racing. Mock and his dad both quickly realized this was the next step in his driving career.
"The first time I got in a go-kart at age 13, I put on the helmet and pulled the visor down – I knew this is what I wanted to do," said Mock, who was in Sebring, FL preparing for the TA2 Class opener. "I'm a competitive person and I want to win. I went to all those tracks with my dad watching races and all my friends were involved in racing…. Racing is all I've ever known."
"With Darin, we have a unique situation," said Cope, from his headquarters in Clearwater, FL. "Most young drivers are looking for the next NASCAR deal, but Darin wants to go road racing. I've been nothing but impressed by him as a driver and person. His parents have done a great job raising him, that's for sure," stated Cope. "He's already had some success winning the Spec Iron championship last and we spotted his talent very quickly in the three races he ran with us, He's only going to get better. The best part is, Darin is the type of person who makes you want to work harder for him. He believes in our cars and we believe in him." stated Cope.
Ken Gilreath, President of AAN Adjusters out of Knoxville, TN, has been part of racing sponsorships in the past. Now, he and the company are putting their time and dime behind the young Mock in TA2. When asked about Darin, Ken said, "We hit it off immediately and quickly realized Darin is not only a good driver, but he's an even better person, comes from a good family and is very appreciative of the opportunities."
Darin is the son of Butch Mock, a former driver and NASCAR Cup Series owner having many notable drivers such as Neil Bonnett, Todd Bodine, Dick Trickle, Lake Speed, and many others drive for his race teams for over 20 years. Darin Mock has the same passion for racing as his father and is pursuing his own ambitions in racing.