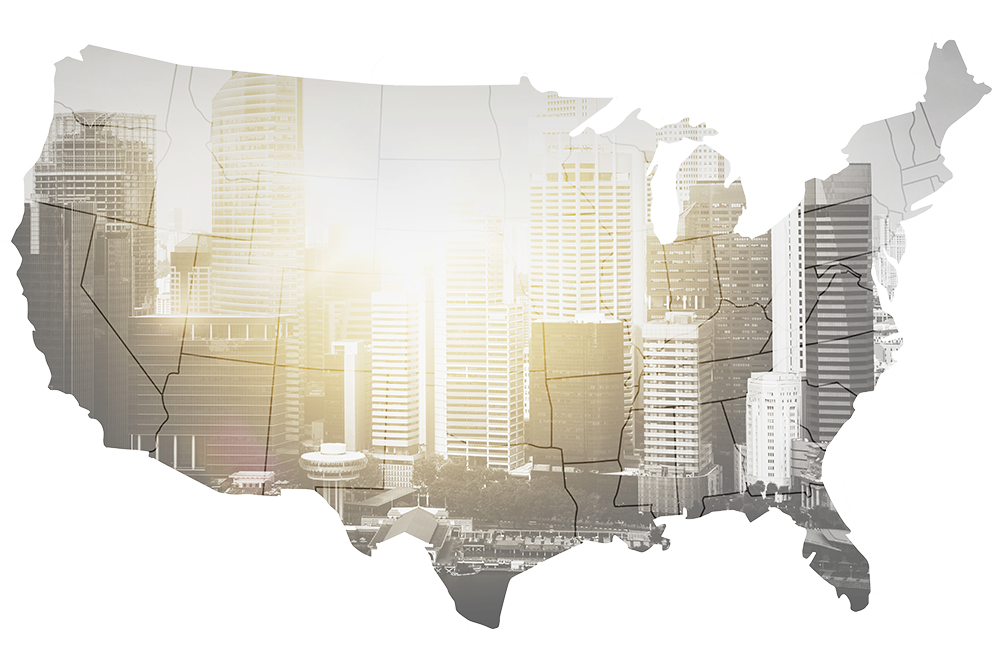 Top 10 States for Reciprocal Licenses
Top 10 States for Reciprocal Licenses
Florida
If your home state isn't Florida, then it should be the first reciprocal license on your wishlist. We know the Sunshine State for its devastating hurricanes, regular storms, and flooding. All this make it a claims hotbed year-round. You can obtain the Florida license quickly with a simple online application. It auto-renews as long as you complete your home state CE and process your home state renewal on time.
Texas
Everything is bigger in Texas. That includes the number of insurance claims filed every year. It's size, population, and weather make this a strong #2 on our list. Neighborhood floods, crop drought, fires, tornados, hail, wind, and hurricanes. All these keep adjusters working year-round. The license auto-renews as long as you complete your home state CE and process your home state renewal on time.
Louisiana
Louisiana gets pummeled by storms and hurricanes on a regular basis. In recent years, flooding seems like a near-constant issue for the Gulf state. Having your Louisiana license has become an almost 'permission-to-play' type license. In other words, you gotta have the license. The reciprocity and compliance process is the same as most licensing states. You apply for the license through reciprocity, keep your home state up-to-date, and you are good to go on the bayou.
Alabama
Another hotbed for a hurricane, storm, and tornado activity. The state is also a hub for Independent Adjusting Firm offices. Alabama has become another must-have license. Apply through reciprocity and keep your home state compliance up-to-date to keep the license active. While Mississippi is a gulf state, it's not as essential from a licensing standpoint as the other three. Louisiana and Alabama have a lot more coastline. Their borders protect Mississippi from widespread hurricane damage. We do recommend obtaining an MS license eventually, but it didn't make our Top 10.
Georgia
Atlantic storms have been brutal over the past few years so insurance carriers and IA firms have seen a big increase in the number of claims. As with all the above states, reciprocity makes it easy to get Georgia in your wheel-house as soon as you can.
North Carolina
The Tar Heel state is the second of our SE Atlantic states…but just barely. It's every bit as important as Georgia. The beautiful coastline and barrier islands of North Carolina are heavily populated. The state bulges east into the Atlantic Ocean. This results in a lot of people and property being in the way of storms. In case you were wondering, South Carolina falls in the same category as Mississippi. It's a good license to have but not a Top 10 state.
Minnesota
Hurricanes and tornadoes can have a devastating effect on our southern states. But did you know bad weather actually affects the northern states more often? Standard winter storms can produce heavy snowfall, freezing problems, ice, car issues. This can produce tens of thousands of claims every year. If you are looking for year-round work, having a license in northern states like MN, MI, and IN is essential. We recommend starting with Minnesota. Apply for the license through reciprocity and then keep your home state up-to-date.
Michigan
Eighth on our list and the second of the northern states is Michigan. The reasons are essentially the same as in Minnesota. Use reciprocity, keep your home state license up to date. Make sure you bring a BIG jacket because while these northern states offer a ton of opportunity, it is cold.
Arkansas
With tornadoes occurring all over the country, we easily forget Tornado Alley. It doesn't help that some of the alley states don't license adjusters (i.e. Missouri and Kansas.) But Arkansas and Oklahoma still see a ton of claims every single year. They round out our Top 10 list for that reason.
Oklahoma
We know the Sooner State for its frequent and/or massive tornadoes, hail, wind, fires, and flooding action. All this has made it a hot commodity license in the past few years.
If you have any questions about becoming an adjuster or have questions about this information, contact us today!
Also, be sure to follow us on Facebook for updates and information!